"Asking for help is never a sign of weakness. It's one of the bravest things you can do. And it can save your life." — Lily Collins
Dr. Michelle Emmerling
Dr. Michelle Emmerling is a Registered Psychologist in Edmonton with a PhD in Counselling Psychology from the University of Alberta, one of the few CPA accredited Counselling Psychology programs in Canada. Dr. Emmerling is a member of the College of Alberta Psychologists and the Psychologists Association of Alberta. She has over 15 years of extensive training and experience in clinical treatment and research.
Dr. Emmerling has highly specialized training from the world's leading experts in Emotion Focused Therapy, Emotion Focused Family Therapy, and Emotion Focused Skills Training.
Her main areas of interest and expertise are in eating disorders, body image, and perfectionism. She also has a passion for working with and empowering caregivers as they navigate their loved one's mental health struggles. 
Dr. Emmerling works with individuals (12 and up), couples, and families from all different backgrounds, cultures, religions, spiritual beliefs, sexual orientations, and gender identities.
*currently not accepting new clients
Jillian Paschen (MPS-AT CCC)
Jillian is an art therapist and clinical counsellor. She believes relationships are central and that we thrive in the fullest sense when we are in healthy relationships within ourselves and with our loved ones. Jillian helps run free workshops called art hives at the Art Gallery of Alberta and offers creative process workshops for various organizations and groups. Collaborating with and celebrating diverse participants from every walk of life is a core value in Jillian's work, and she works with all ages, cultures, genders, and abilities. Book your counselling or art therapy session with Jillian today.
Caroline Belanger-Willetts
If you are reading this, you're likely searching for a mental health professional to help you along the way (that's already a huge step!). I'm glad you're here and I want to introduce myself and share a little bit about my approach to therapy. 
My name is Caroline (pronounced Carolyn) and my pronouns are she/her. I'm a registered provisional psychologist (P6497). Originally from Québec, I lived and worked in England, then moved back to Montréal before arriving in Edmonton in 2014. I love the community feel of the city and enjoy the River Valley trails daily. I earned my Master of Counselling at City University of Seattle's Edmonton campus later in life. My journey to becoming a therapist has been filled with ups and downs and twists and turns but seeing clients overcome challenges, grow, heal, and become their best selves is not only exciting but also brings so much meaning to my life!  
Life can be overwhelming at times leaving us feeling lost and alone. Sometimes we feel like we are walking on a narrow path in the dark searching for meaning and direction while feeling like there are no viable options. Other times, we feel burdened with shame and wish we felt less pain. 
Finding the light at the end of the proverbial tunnel or seeing the horizon again may be easier if someone shares part of the journey with us. Drawing upon my training and experience, I aim to establish a safe, non-judgmental space where we will work together in this collaborative process that is therapy. Of course, as a counselling psychologist, I know about human psychology and counselling, but you know yourself more than I (or anyone else) will ever do. Although it may not always feel like you do, a genuine and safe therapeutic relationship can be a starting place to feel seen and heard, so that you can begin to tap into your inner resources and goodness.
As an emotionally focused therapist, initially, my role is to meet you where you are at and gradually bring you to the leading edge of your experience where you can move toward growth, healing, and who you want to be. 
I will welcome you with warmth, humour, care, and the understanding that we are shaped and impacted by our environment. 
I am most experienced in supporting individuals who are experiencing anxiety, depression, grief, shame, negative self-views, impacts of traumatic life events, relationship issues, and ADHD/neurodivergence. I'm a provisional registered psychologist which means that I have supervisors who are registered psychologists (it's like having training wheels) to ensure that I practice ethically, safely, and effectively.  
Seeking therapy takes courage and strength. I hope that through the reflection I'm offering that you can see the steps you have already taken.
Please feel free to contact me if you are interested in learning more, or wondering if I might be a good fit for you. I look forward to meeting you.
Si vous lisez ceci, c'est probablement parce que vous cherchez un professionnel de la santé mentale pour vous aider à cheminer (et c'est déjà une énorme étape!). Je suis contente que vous soyez ici et je voudrais me présenter et partager un peu à propos de mon approche thérapeutique.
Je m'appelle Caroline et mes pronoms sont elle/elle. Je suis une psychologue provisoire agréée. Originaire du Québec, j'ai vécu et travaillé en Angleterre, puis je suis retournée à Montréal avant d'arriver à Edmonton en 2014. J'aime l'atmosphère communautaire de la ville et chaque jour, j'apprécie les sentiers de la vallée de la rivière. J'ai obtenu ma maîtrise en counseling à l'Université City de Seattle à Edmonton. Mon parcours pour devenir thérapeute a été rempli de hauts et de bas, de détours et de rebondissements, mais voir mes clients surmonter des défis, grandir, guérir et devenir le meilleur d'eux-mêmes est non seulement excitant, mais apporte également tellement de sens à ma vie !
La vie peut être accablante parfois, nous laissant perdus et seuls. Parfois, nous avons l'impression de chercher le sens de la vie sur un chemin étroit, dans l'obscurité, sans trouver d'options viables. D'autres fois, nous sommes accablés par la honte et nous souhaitons ressentir le moins de douleur possible.
Voir la lumière au bout du tunnel (selon l'expression courante) peut être plus facile si quelqu'un partage une partie du voyage avec nous. En m'appuyant sur ma formation et mon expérience, je vise à établir un espace sécuritaire et sans jugement, où nous travaillerons ensemble dans ce processus collaboratif qu'est la thérapie. Bien sûr, en tant que psychologue, je connais la psychologie humaine, mais vous vous connaissez mieux que moi (ou que quiconque d'autre) ne le fera jamais. Bien que cela puisse ne pas toujours vous sembler le cas, une relation thérapeutique authentique et sécuritaire peut être un point de départ pour vous sentir vu et entendu, afin que vous puissiez commencer à puiser dans vos ressources intérieures et dans votre bonté.
En tant que thérapeute axée sur les émotions, mon rôle initial est de vous rencontrer là où vous en êtes rendus, vous amener progressivement vers la croissance, la guérison et vers qui vous voulez être.


Je vous accueillerai avec chaleur, humour, compassion et compréhension, tout en sachant que nous sommes tous façonnés et influencés par notre environnement.
Je suis particulièrement expérimentée dans le soutien aux personnes qui éprouvent de l'anxiété, dépression, deuil, honte, mauvaise image de soi, impacts d'événements traumatiques, problèmes relationnels et troubles du déficit de l'attention avec ou sans hyperactivité ou autres divergences neurologiques. Je suis une psychologue réglementée provisoire, ce qui signifie que j'ai des superviseurs, qui sont des psychologues certifiés (un peu comme avoir des roulettes de formation), pour m'assurer que je pratique de manière éthique, sécuritaire et efficace.
Chercher de l'aide en thérapie demande du courage et de la force. J'espère qu'à travers cette
réflexion que je vous offre, vous pouvez voir les étapes que vous avez déjà franchies. N'hésitez pas à me contacter si vous êtes intéressé à en savoir plus ou si vous vous demandez
si je suis la bonne personne pour vous. J'ai hâte de vous rencontrer.
Tara Azimi
I am a registered provisional psychologist with 12 years of experience in the mental health field across British Columbia and Alberta. I am also a PhD candidate in Public Health at the University of Alberta where I conduct research on the experiences of mothers as caregivers for chronically ill children.
I have provided therapeutic support at non-profit organizations, through employee assistance and family programs, at government agencies, and in private practice. I have experience working with individuals and couples dealing with various issues such as caregiving burden, trauma, personal growth, depression, anxiety, obesity, conflict resolution, chronic disease, low self-esteem, family conflict, cross cultural challenges, work–life balance, grief, relationship deterioration, decision-making, and academic or career distress.
At times it can be hard to put into words what you feel and to know where to start. As your therapist I will meet you at your pace and I will create an environment where you feel safe to freely speak about your deepest thoughts, goals, hopes, fears and traumas. Therapy is not a quick fix, and the healing process will require your investment and participation. Through a gentle and collaborative approach, I will invite you to discover your pathways for change and will support you to achieve your goals. My aim is to encourage my clients to keep moving forward while offering them effective tools, strategies and techniques so that they can do so.
My approach to counselling is client-centred, relational and experiential. In my practice I place an emphasis on empathy, proven strategies, uncovering innate strengths and deep-rooted views, perspective shifting, cross-cultural awareness, encouragement, and the therapeutic relationship. Understanding that we all have unique lives, personalities and goals, I tailor each session to the unique needs of my clients and draw on various therapeutic modalities I see fit such as EFT, CBT, ACT, narrative therapy, Adlerian therapy and SFT. I take into consideration the diverse backgrounds, life experiences, access to resources, challenges and strengths of my clients when offering suggestions and creating a therapy plan. As a second-generation immigrant, I am also very mindful of the role culture plays in the lives of individuals.
I have experienced many hardships and loss in my own personal life which have influenced who I am today. These experiences have formed the immense empathy I have for others, the struggles they are trying to overcome and the therapeutic alliance I am able to build with my clients. I believe that with the right support every person has the inner strength, ability, and resilience to heal and grow from emotional pain and I will be honored to be part of this journey with you!
Join Our Team
Thank you for your interest in joining our team! Browse the opportunities below to see what might be the best fit for you.
Emmerling Psychology recently opened and is located in a brand-new space in downtown Edmonton. It is a beautiful, warm, and comforting space that has lots of natural light in each office. The office is located at 620, 10055 106 Street.
We offer a modern and full furnished space with all supplies included, flexible hours, and a competitive split. Also opportunities to learn more about the emotion focused model and the work we do with families, parents/caregivers, and eating disorders.
Both in person and virtual sessions are offered at Emmerling Psychology and practitioners have the option of doing both or just one of the formats.
If you are interested, please send a cover letter and CV to [email protected]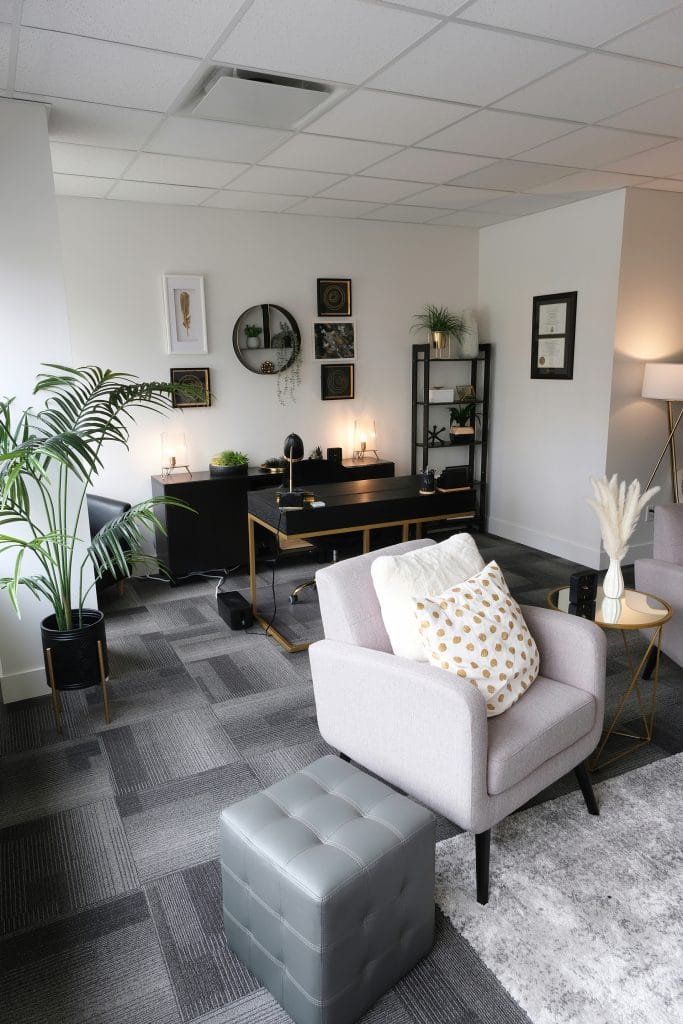 therapeutic work for individuals, couples, and families.
It's important to focus on "how" problems are produced (rather than just "why"). This means Dr. Emmerling helps her clients become more aware of multiple aspects of their experience (e.g., thoughts, emotions, nonverbal and verbal language), gaining greater awareness and understanding of who they are and also of their relationships. Dr. Emmerling helps her clients better access and identify their underlying needs and learn to communicate them more effectively to others. 
Alberta Wellness Center for Eating Disorders
Keeping Your Health in Mind
Right now, all our treatment providers are offering virtual and in-person sessions to best meet the needs of our clients. Please call us to inquire or use our online scheduling system to book an initial assessment. If you are having an emergency, please call 911.